B-Luron Coral Club – Boost of Collagen & Healthy Joints
B-Luron is a dietary supplement based on Hyaluronic acid and Chondroitin Complex (HCC). It is an innovative technological development of the German Company Gramme-Revit GmbH and is intended to activate the production of synovial liquid, which helps restore cartilaginous tissue, this is very important for our movement ability. The more you move, the less stiffness you will have and, of course, more flexibility. This is the golden rule of joint health. 
B-Luron's components and mechanism correspond to the main principle of "orthomolecular" medicine. This principle is to restore and maintain health by changing the concentration of substances that are responsible for health. 
The manufacturer has managed to integrate a unique synergistic combination of two main building materials for the recovery of cartilage (elastic material protecting our joints)—chondroitin and hyaluronic acid. What's significant is that it affects all joints together and does not lose efficiency.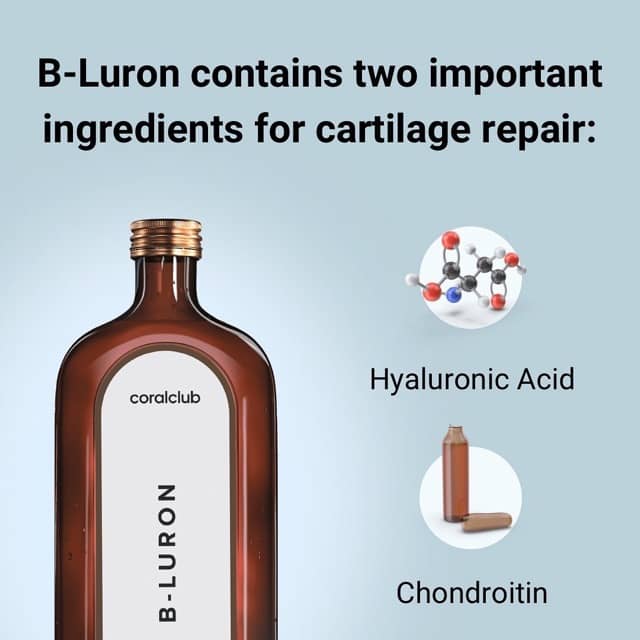 B-Luron –
Composition and benefits 
Hyaluronic acid and chondroitin are the main components of B-Luron: chondroitin sulfate: 300 mg, hyaluronic acid: 150 mg, vitamin Е: 15 mg, complementary ingredients.
Both components are much better at protecting joints together. If these substances are taken simultaneously, then they act in synergy with each other. They mutually complement each other in the protection and nutrition of the cartilage tissue and act incomparably more effectively than either of them separately. 
Due to the altered molecular structure, hyaluronic acid in HCC is not destroyed when taken but remains stable. And it acts, on the one hand like a syringe, mechanically increasing the amount of exogenous hyaluronic acid in the joint, and on the other hand, like a catalyst; it activates the process of synthesis by chondrocytes of its own (endogenous) hyaluronic acid. At the same time, HCC affects all joints at once. 
So, B-Luron helps with joint health and mobility. A measuring cup with 30ml of B-Luron (equivalent to 450mg of HCC) should be taken every day for a month. Improvement is not immediately noticeable, it may be more noticeable 2–3 weeks into the course (or later) when the levels of hyaluronic acid are higher.
Who can use B-Luron?
Using as a supplement to boost hyaluronic acid, B-luron is a product recommended to everyone from the age of 30 and up. Also, this product could be used for treatments in cases when:
You suffer from Arthritis and other joint problems

 

You have age-related issues affecting joints

 

You have weight-related issues in joints

 

Your joints experience excessive pressure due to weight, work, or exercise

 

You engage in high-intensity sports activities and competitions

 

You have pathologies of intervertebral discs (protrusion, disc bulge, collapsed disc)

 

You are in a period of rehabilitation after joint surgery (arthroscopic sanitation)

 

You suffer from "Bowlegs" and "knock knees"
You suffer from Osteochondropathy in adolescents You suffer from Gout

 
It is very important to mention that B-luron doesn't have any side effects, and it can be easily used together with other products. This natural supplement can be combined with physiotherapy and medication, for long-lasting effects-up to 3–5 months after the course. It doesn't contain any side effects and is very easily administered.
B-luron targets the root cause of joint problems works at the smallest level by correcting imbalances at the molecular level, and helps each and every joint of the body.
B-Luron – opinions
What are consumers saying about this product?
"I use B-luron for three months already and I can see huge improvements on my joints. I found this product by pure coincidence while searching for the best natural suplemment to treat the Arthritis. Without any exageration, this product really does its job. I have more flexibility, I don't feel anymore the pain while doing my sport activities and my knees doesn't make anymore the "kracking" sound. I recommend B-luron with all my heart", Vanessa, 55 years old

"B-luron literally helped me get my mobility back. I wasn't able to move for almost one month because of a small accident this autumn, and today I'm happy to not suffer anymore. My daughter recommended me this product and I'm very thankful for that. Is easy to take, tastes like a nice syrup and I even observed nice changes on my face! Now I'm happy with my healthy joints and a shine face skin. Will continue to take B-luron for the next 2 months as well, as I read the best treatment needs to be done for at least 3 months", Beatrice, 36 years old

"I started to drink this supplement since I was 30 years old, mostly for a profilactic purpose. I like it's effects and benefits, I like the results on my skin, my energy level and 100% on my joints. I do regular sport activities and definitely I do care a lot about my legs, my arms and of course, all the body parts!! B-Luron helps me every day to keep all my body in a good shape, my skin very tonified and elastic. Highly recommend it to everyone", Christine, 33 years old

What are health specialists saying about this product?

"B-Luron is an inovative product that can very much be replaced with all the painful hialuronic procedures. It's a natural product that can be taken basically by everyone, without any side effects. As a daily supplement or a treatment product, B-luron does it's job, and it does it very well", Adriana Sochirca, Specialist in health, nutrition and cell regeneration 
Where I can buy B-Luron and at what price?
B-Luron is an exclusive product of Coral Club, and it can be purchased only in the Coral Club official stores—HERE. We highly recommend you avoid any external platform like Amazon or E-bay. Moreover, if you buy the product HERE, you will get a B-Luron Coral Club price 20% lower.
IMPORTANT: Dietary supplements cannot be used as a substitute for a varied diet. The dietary supplement should be stored out of reach of small children. Do not use if you have an intolerance to any of the ingredients in the dietary supplement. THIS PRODUCT IS NOT INTENDED TO DIAGNOSE, CURE, OR PREVENT ANY DISEASE.